Support from the University Library
Support
The University Library can provide you with support for all matters related to the life cycle of digital research data, from the initial planning stage through to the end of your project. This includes:
Research
Where and how can you search for data on your research project and what is the correct way of citing it?
 Planning
Which data are you likely to generate in your project and how should it be structured, organised and protected during and after the project?
 Description
Which standards are there for metadata and which tools are available for data visualisation?
 Data publication
Which opportunities and requirements exist with regard to publishing research data?
 Access
Should your research data be made publicly available a.d. if so, should it be published in full or in part, and who should receive access and when (e.g. after an embargo)?
 Terms of use
Which licence models are there and what rights do they grant users?
 Data formats
Which data formats are most suitable for permanent archiving and how long must data be saved for (systematic deletion)?
Training
In addition to individual consultations the library also offers various training courses for groups. The courses are organised upon request (e.g. by a research group or a graduate school) thus time and place are flexible. A general introduction to research data management (depending on focus typically 1.5 to 2.5 hours) will cover the topics:
data management plans and requirement by university, funding agencies and scholarly societies
standards for data and metadata as well as data formats
organisation and documentation of data
long term preservation (LTP), data centres and backup
data repositories and data publication
copyright, licences and citation.
The selection of topics follows the data life cycle: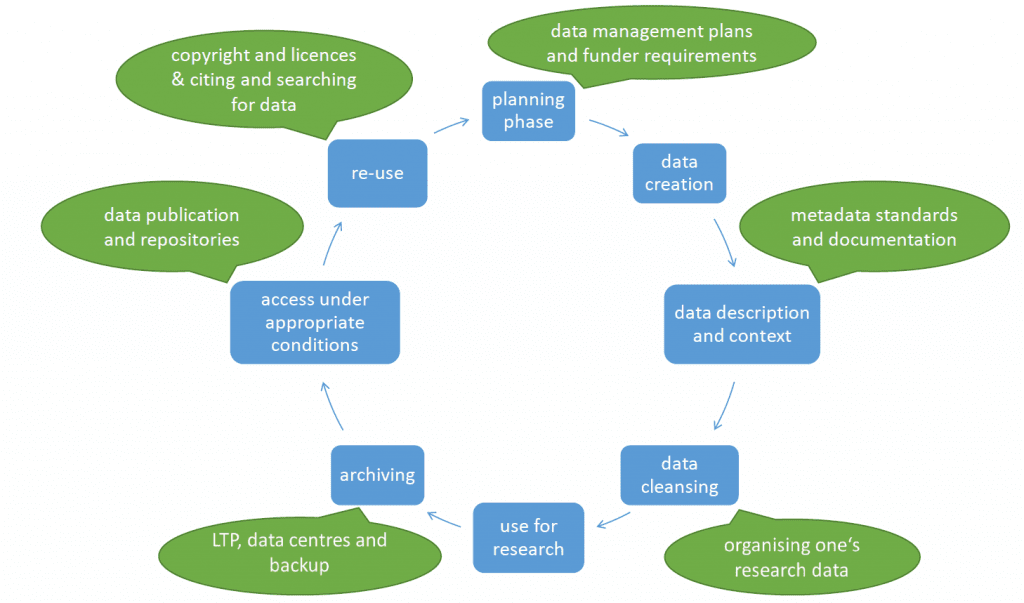 The different subjects are illustrated with example taken from the research areas of the audience. The focus of each training course can be adapted to interests of the audience. Furthermore, the library also offers training for data repository RADAR, for writing data management plans a.d. as part of our literature research courses, for researching datasets.
If you are interested in a training course or seminar regarding discipline-specific aspects of data management that cannot be adequately covered by the university library we will assist you with  finding a suitable expert. Please also consider the services for data management in the digital humanities (DHLab and UBCoach).