Link server SFX
SFX is a link server. Starting from a reference in a given database or online catalogue, SFX provides context-sensitive links to other library-defined resources, thus greatly facilitating literature search.
The SFX button

in a database display in DBIS indicates that the database is linked to SFX.
Here you find a list of the online databases currently linked to SFX.
Clicking on the SFX button for a reference brings up an SFX menu window from which you  can select from a number of services that are relevant for that reference. These services are institution-specific and will lead only to those resources and services available from the target system.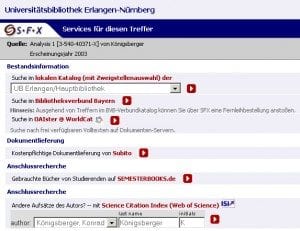 links to electronic full texts, if they are licensed for the University Library or free on the internet
a link to the Electronic Journals Library (EZB)
a link to Catalogue to check local holdings' details and status
a link to the Bavarian Union Catalogue with the option of online interlibrary loan requests
links to an abstract or a table of contents
a link to the fee-based document delivery service Subito
a link to digital documents without copyright restriction
links to search engines
a link to an e-mail form for questions or suggestions
For further information please contact the SFX-Team of Erlangen-Nuremberg University Library or the Information desks.