About us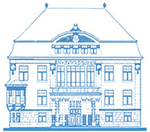 The University Library Erlangen-Nürnberg forms the library system of the Friedrich-Alexander-University Erlangen-Nürnberg (FAU) and is the regional library for the administrative district of Middle Franconia. As a scientific universal library, it offers its users a broad spectrum of specialist literature from all faculties and a multitude of services.
The library system is a two-tiered library system consisting of four central libraries and 15 sublibraries whose holdings are distributed over a total of approximately 200 locations. The Main Library (HB) and the Science and Technology Branch Library (TNZB) are located in Erlangen, while the Economic and Social Sciences Branch Library (WSZB) and the Educational Sciences Branch Library (EZB) are located in Nuremberg.
The University Library has been awarded the "Libraries – Partners of Schools" seal of quality several times for its broad range of training courses aimed at specific target groups.