From May 2: More study places in the Main Library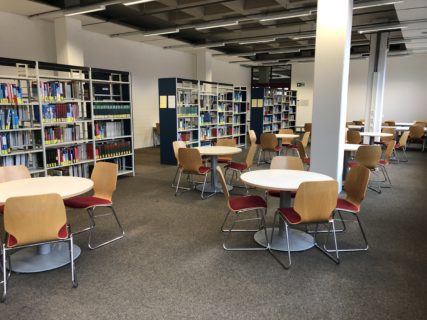 The construction work in the Main Library is shifting from the public areas to the stacks, allowing for more space for visitors again from the beginning of May. More specifically, as of Monday, May 2nd, the following changes will take effect:
Reading rooms 5 and 6 will be reopened. In reading room 5, 66 seats will be available without rule of silence, group work and active participation in video conferences will now be possible there as well. Similar to reading rooms 1 to 4, the 36 seats in reading room 6 are reserved for patrons who prefer to work in silence.
The reference works formerly located in reading room 5 (H20/R to H20/Z) are now located in reading rooms 5 and 6. Reading room 6 now contains the shelfmarks H20/R to H20/U. The books are once again accessible on site at the shelves, ordering them via the catalogue is no longer necessary.
The parent & child room is available again. Parents with children up to the age of 8 get the key at the circulation desk on the 1st floor.
Also starting May 2nd, the catering service in the cafeteria of the main library will be open again: Monday to Thursday between noon and 6 pm, Friday between 10 am and 4 pm. You can find up-to-date information on the Studentenwerk website.
Please note: The consumption of food and non-alcoholic beverages in open containers is only permitted in the café bar (Weitblick) on the ground floor and in the cafeteria with the adjacent balcony on the 2nd floor. The university-wide rules apply: The mask may only be removed indoors if a distance of 1.50 m is maintained; in the seating area, the mask requirement does not apply when eating food.
In all other areas of the library, eating is not permitted and drinks must be stored in resealable containers.