Zoom Lounge with FSV Phil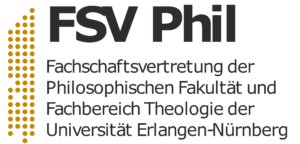 This year, FSV Phil is also taking part in the Long Night of Writing. Unfortunately not with a cocktail bar as before, but we have organised something! With our Zoom Lounge, we want to offer you various possibilities to bridge the time between the courses.
Among other things, we have a co-working room where you can work on your projects in peace and quiet.
In the get-your-stuff-done room, you can exchange ideas with other participants and get feedback on presentations, homework or unpleasant emails.
We will also offer a break room where you can talk to other students in a relaxed atmosphere.
You can join the different rooms or switch between the rooms via the "Breakout Session" button.