WSZB: Renovation work in the Old Building Reading Room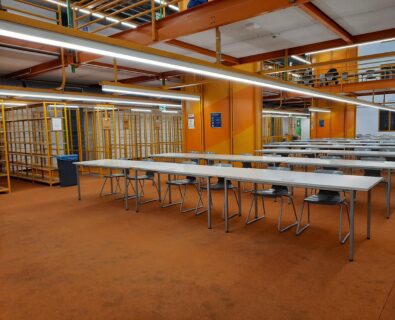 From 4 September, the Economics and Social Sciences Branch Library (WSZB) will again use the lecture-free period for a major construction project. Among other things, 1,050m² of carpet will be replaced on level 3 in the Old Building Reading Room. The carpet has been there since 1977, the year the building was opened.
With the start of the construction site, there will only be a few seats left in the old building reading room, as levels 4 and 5 are not accessible. However, the learning spaces in the new building will be available unchanged. The stock 13GT01/A-Q is freely accessible, the area with the signatures 13GT01/R-Z as well as the journals 13GT40 and 13GT41 will be made available on advance request.
In order for the workmen to get started, 738 m of bookshelves and 1,300 shelf metres with journals as well as about 100 tables, chairs and other furniture must be moved out of the area beforehand. Therefore, restrictions in the reading room are unavoidable as early as August. The number of reading places will gradually be reduced in favour of storage space, and in addition, unfortunately, a certain amount of noise cannot be avoided when moving the holdings. There will also be some noise during the renovation work due to milling and chiselling.
Afterwards, however, everyone can look forward to a uniform new floor covering on the entire level. This will also give us the opportunity to plan new furniture and zoning for the reading room.
As a substitute for the shortage of reading places, FAU members can use the department's study rooms in Lange Gasse and Findelgasse. Reading rooms are also available in other libraries in Nuremberg, such as the Educational Science Branch Library, the Library of the Technical University Georg Simon Ohm, the Library of the Germanisches Nationalmuseum or the City Library.