WSZB: Test of a new area concept in the reading room in the old building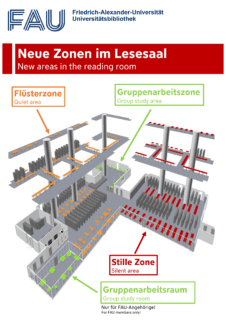 During the summer semester 2023 the Economics and Social Sciences Branch Library (WSZB) is testing new areas in the reading room. For this purpose, the reading room will be divided into three zones starting on April 24, 2023:
Silent area: for silent individual work, no talking allowed
Quiet area: for individual or partner work, quiet conversations allowed
Group study area: quiet conversations in a group allowed
The zones are marked with posters and stickers on the tables. You will find feedback opportunities regarding the new zones on site. The group study room will remain unaffected and is for FAU members only.
The new zoning is intended to create areas for communication and interaction. Currently, the library only offers the group study room for this purpose. With the new areas, we want to accommodate the different needs of users and create diverse learning environments.
If the new zones prove successful, they will be introduced permanently.