WSZB: Term break = Renovation period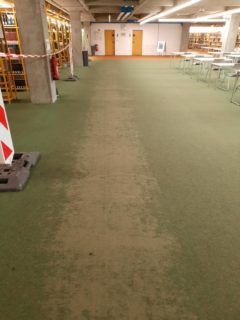 Once again, the term break is being used for the renovation of the Department of Economics and Social Sciences building in Nuremberg.
This also affects the Economics and Social Sciences Branch Library (WSZB): from August 29, over 500 m² of carpet will be replaced in the WSZB's old building reading room. For this purpose, a protective wall must be erected so that access to the old building is no longer possible. Therefore, only the few learning spaces in the new building will be available at the WSZB. The construction work is expected to last until the beginning of the winter term. After that, the traces of the library users of the last 45 years will have disappeared in this area.
As early as Monday, August 15, a first part of the reading room will have to be temporarily closed for the necessary preparatory work: over 1,000 metres of racks will have to be dismantled and moved for the new carpet. The 13GT holdings will therefore be temporarily unusable.
As a compensation for the missing reading places, there are learning rooms of the department in Lange Gasse and Findelgasse available for FAU members.