November 23: Main Library – additional study spaces, accessible textbook collection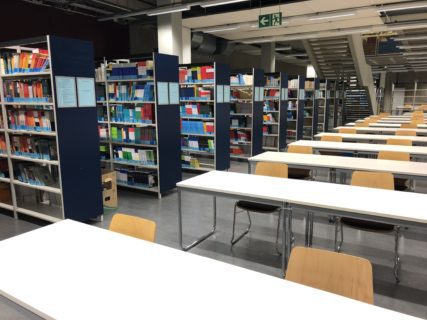 One of the two construction projects in the Main Library will soon come to an end: FAU students raised funds for better electrification in 2019. These funds were used to install 250 new sockets in part of the reading rooms, and the rooms can be reopened on 23 November 2021.
Reading rooms 1 and 3 will then offer 170 learning spaces, which must be booked via the reservation system.
In reading room 6, 43 learning places can be booked for participation in online teaching, although the use of a headset is mandatory.
Furthermore, 41 additional places will be set up in the information centre on the 1st floor, where work may also be done in small groups. Check-in for these places will take place directly at the place without reservation.
The textbook collection (H80) and the reference collections in reading rooms 1 and 3 (H20/B to H20/M) will once again be accessible on site at the shelves, ordering in the catalogue will no longer be necessary.
Construction work on the ventilation system will continue, however, so that noise and dirt will continue to be a nuisance. Reading rooms 2 and 4 will remain closed for this work until further notice.