Old UB library cards for external users expire on June 2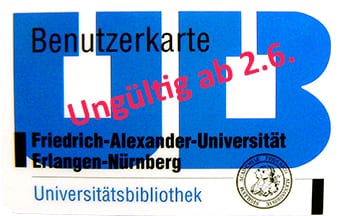 As already announced in November 2019, the validity of the established library cards for external library users ends on Tuesday, June 2.
If you want to continue using the services of the University Library, you have to get the new library card with integrated wallet. Your account will be charged once with 5 €, which you have to pay within eight weeks at the payment terminals in the library.
You can find detailed information about the card on this page.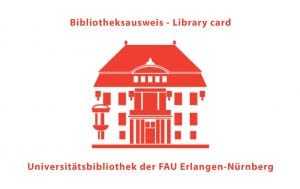 The new library cards will be issued in the four central libraries:
Main Library, Schuhstr. 1 a, Erlangen: Monday to Friday, 10 am to 8 pm
Science and Technology Branch Library, Erwin-Rommel-Str. 60, Erlangen, Monday to Friday, 10 am to 4 pm
Economic and Social Sciences Branch Library, Lange Gasse 20, Nuremberg, 10 am to 4 pm
Educational Science Branch Library, Regensburger Str. 160, Nuremberg, 10 am to 8 pm