27.5: Some reading rooms open again – seat must be reserved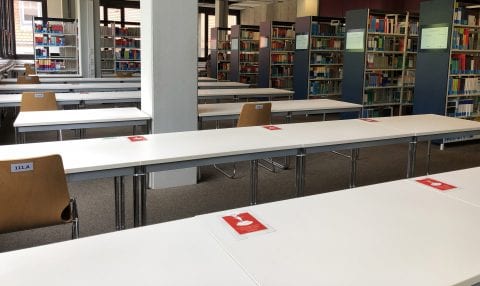 Some reading rooms in the Main Library, the Science and Technology Branch Library, the Economic and Social Sciences Branch Library, the Educational Sciences Branch Library and the Departmental Library Law (02JU) re-open to members of the Friedrich-Alexander-University Erlangen-Nürnberg (FAU).
The learning places in the four central libraries are open Monday to Friday from 9 am to 8 pm, the learning places in the Jura Library (02JU) Monday to Friday from 8 am to 11.45 pm, Saturday from 10 am to 9.45 pm.
As the number of places is limited according to the hygiene guidelines, you must book a place in the reading room via the website https://ub.fau.de/reservation before each visit.
The Reading Room Manuscripts, Graphic Collections in the old library opens Monday to Friday from 8.30 am to 4 pm. Please register your visit by telephone (+49 9131 8522159) or by e-mail (ub-handschriften@fau.de).
Some important informations about booking a seat at a glance.
Only members of the Friedrich-Alexander-University Erlangen-Nürnberg (FAU) can book a place. Please activate the library function via the IDM-Portal before.
There are two time slots at all locations. After each time slot the seat will be cleaned.
You can only book one seat per day in one time slot. Further bookings will be deleted.
The reservation is only valid for the person making the booking. A booked seat may not be occupied by more than one person.
Please bring your confirmation email with you when you visit us (either as a printout or on your smartphone).
A seat can be booked up to 14 days in advance.
The computer workstations can still not be used.
If you have any questions, please contact ub-reservierung@fau.de.