Introduction of Cashless Payments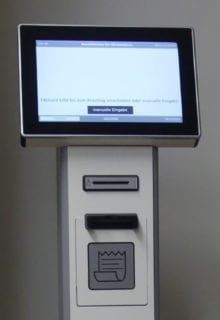 Since Monday, December 2, the Main Library, the Science and Technology Branch Library, the Economic and Social Sciences Branch Library and the Educational Science Branch Library are equipped with payment terminals. With the FAUcard or the new library card, these devices can be used to pay interlibrary loan and reminder fees as well as the fee for the new library cards (for non-university members).
Payments are thus possible during the entire opening hours, waiting times until transfers are credited and the associated delayed re-release of blocked library accounts are eliminated.