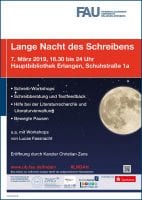 As part of the international Long Night Against Procrastination movement (#LNAP) a Long Night of Writing takes place in the Main Library on March 7. The following workshops are addressed to international students.
Workshops (Duration: 20 to 30 minutes each)
5 pm
First floor, room 1.038, Shira Richman (Language Centre): Assess Yourself: Identify Your Academic Writing in English Skills and How to Advance Them
Second floor, room 2.043, Marek Czaja (Language Centre): Das Beste kommt zum Schluss: die Einleitung wissenschaftlicher Texte (for international students)
5:40 pm
First floor, room 1.038, Shira Richman (Language Centre): The X Factor of Academic Writing in English: You Be the Judge (of Sentence Style)
6:20 pm
First floor, room 1.038, Marek Czaja (Language Centre): Das Beste kommt zum Schluss: die Einleitung wissenschaftlicher Texte (for international students)
7:40 pm
First floor, room 1.038, Jasmin Haderlein (Language Centre / Learning Lab): Keine Angst vor Haus- und Abschlussarbeiten (for international students)
8:20 pm
Second floor, room 2.043, Shira Richman (Language Centre): Assess Yourself: Identify Your Academic Writing in English Skills and How to Advance Them
9 pm
Second floor, room 2.043, Shira Richman (Language Centre): The X Factor of Academic Writing in English: You Be the Judge (of Sentence Style)
Writing consultations and feedback for your texts
Here you can meet with consultants from the Language Centre and writing tutors from the Writing Centre, which is based at the Learning Lab. If you would like to receive feedback on your work, please feel free to bring a sample of your writing.
6 to 8 pm: Writing consultations for English texts
7 to 9 pm: Writing consultations for German texts (for international students)
All workshops and writing consultations on the Long Night of Writing are free of charge. We would love to receive your feedback, which can be offered at our information desk on the ground floor. There you are also welcome to create your own button commemorating your participation in the Long Night of Writing 2019.
Important informations
Studentenwerk offers beverages and snacks in the café-bar, ground floor, until 9 pm. Throughout the event cocktails are served by FSI in the cafeteria, second floor.
Please charge your laptops at home or bring a charger with you. It might be difficult to find available sockets in the Main Library.